Industrial Tapes:
We can supply all kinds of Nichiban Tapes:
No.405,CT405AP,CT-18,CT-24,CRCT-18,LP-18,LP-24 NO.320,NO.208,NO.209,NO.602,NO.2311, NO.2312, NO.221, NO.241NO.102N,NO.121,NO.123, No.331/No.3320/No.3330/No.334/No.337/No.337-T/No.337-Z,No.6763/No.6773/No.6775/No.6783, NO.536,NO.557,NO.533,NO.533B,NO.533T,NO. 554L,NO.557,NO.602LB etc.
Nichiban, making use of its adhesive technology developed by itself, is creating a variety of products, which support rationalization of various industries. Representative example is the products and apparatus that promote streamline the distribution, which are adhesive tape for packaging, farm produce bundling system. In addition to these, we are actively developing sophisticated materials that satisfy the resistance against heat, weather, solvent, etc. Those products have wide variety of application from construction, masking to electronics.



Nichiban No.102N/No.121 Cloth tape
Nichiban cloth/gaffa/duct tape NO.102N
Length: 25m, Width:25mm, 50mm
Black:

White:
Sliver:

Gray:
Pink:

Orange:
Red:

Blue:
Dark Green:

Yellow:
Shllow Blue:

Green:
PACKING TAPES
No.405




CT-12,CT-15,CT-18,CT-24





CT405AP(CT-405AP-12,CT-405AP-15,CT-405AP-18,CT-405AP-24)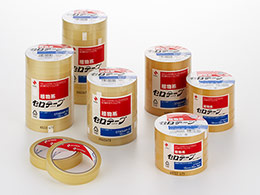 LP-12,LP-15,LP-18,LP-24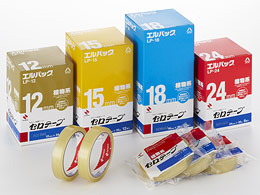 No.430




No.520




No.540




No.208




No.209




No.602




No.635




7500-T/7500-AT




No.640/No.640-PF






Cleanrooms, antistatic tape

CRCT-18





CAR TAPE/AUTO TAPE

No.2311




No.2312




No.221




No.241




No.536 No.557





No.533/No.533B/No.533T/No.533Y/No.534/No.534Y/No.535A/No.535Y/No.532ANo.532T/No.533A




No.554LB/No.557/No.602LB




No.331/No.3320/No.3330/No.334/No.337/No.337-T/No.337-Z




No.6763/No.6773/No.6775/No.6783





Electrical tape

No.12/No.13/No.558A/No.558B/No.690/No.695-25/No.695-50




No.604 No.701/No.702/No.702K/No.709T




Building Tape
NO.251 NO.252 NO.253