Elastic adhesive | Thermal Conductive Elastic Adhesive SX-TCA series
Features
Forms a highly thermally conductive elastic body and offers long-lasting thermal radiation at a high level.
Contains no low-molecular silicones, which can cause electrical contact failure.
Can be used to reduce screw usage due to its adhesion and adhesive reliability.
No compound bleeding and no shrinking – can be used as a curable grease.
Curing/half-curing, preventing pump-out.
Excellent adhesion and durability make it suitable for heat management solutions for vertical surfaces and parts affected by vibration.
Fast-curing, improving work efficiency.
No concern for pump out (compared to grease)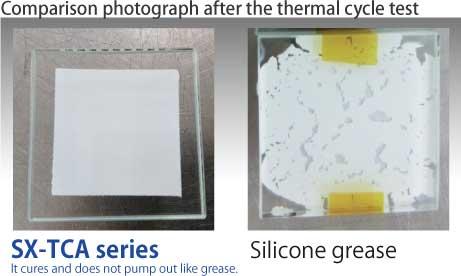 Product data
Adhesive properties for various types of adherends
(Tensile shear strength :MPa)
Adherends
SX1008
SX1010
RH96L
Adhesive strength
Failure Modes
Adhesive strength
Failure Modes
Adhesive strength
Failure Modes
Hard polyvinyl chloride
2.18
CF
1.61
CF
0.68
CF1AF9
Polycarbonate
2.16
CF
0.77
AF
0.82
CF2AF8
Polystyrene
1.98
CF
1.24
AF
0.61
AF
ABS
2.10
CF
1.24
CF5AF5
0.61
AF
Acryl
2.20
CF
1.60
CF
0.28
AF
Nylon 6
1.66
CF
1.28
CF
0.65
CF1AF9
Steel plate
2.23
CF
1.50
CF
0.55
AF7,Uncured3
Aluminum
2.85
CF
1.90
CF
0.76
AF
* CF:Cohesion Failure, AF:Adhesive Failure
The numbers indicate their proportion to the adhesion area.
Surface treatment: Steel plate is MEK degreased, Plastic is IPA degreased
Coating quantity: Coated on both sides 100μm thick (per side)
Open time: SX1008, SX1010 No open-time, RH96L 2 minutes
Curing: 23°C 50%RH x 7 days
Tension speed: 50mm/min
Heat aging resistance(SX1008/SX1010)
(MPa)
SX1008
SX1010
120°C
130°C
120°C
130°C
Initial value
2.85
CF
2.85
CF
1.90
CF
1.90
CF
1W
4.69
CF
4.82
CF
3.67
CF
3.88
CF
2W
4.60
CF
4.10
CF
4.04
CF
3.81
CF
4W
4.53
CF
3.98
CF
3.84
CF
3.70
CF
8W
4.16
CF
3.01
CF
3.72
CF
3.20
CF
12W
4.12
CF
2.48
CF
3.68
CF
2.96
CF
18W
2.89
CF
1.99
CF
2.84
CF
2.54
CF
* CF:Cohesion Failure
Adherends: Aluminum (alumite)
Test method : JIS K6833
Heat aging resistance(RH96L)
(MPa)
150°C
Adhesive strength
Failure Modes
Initial value
0.76
AF
100h
0.89
CF
300h
1.00
CF
500h
1.19
CF
1000h
1.52
CF
2000h
2.22
CF
3000h
2.58
CF
* CF:Cohesion Failure, AF:Adhesive Failure
Adherends: Aluminum (alumite)
Test method : JIS K6833
High-temperature and high-humidity test
(MPa)
85°C x 85%RH
SX1010
Adhesive strength
Failure Modes
Initial value
1.90
CF
1W
3.14
CF
2W
3.23
CF
4W
3.16
CF
8W
3.43
CF
12W
3.51
CF
18W
3.67
CF
* CF:Cohesion Failure
Adherends: Aluminum (alumite)
Test method : JIS K6833
Thermal shock test
(MPa)
RH96L
Adhesive strength
Failure Modes
Thermal conductivity
Initial value
0.76
AF
2.14 W/m・K
-40°C
↑↓
125°C
100 cycles
1.28
CF1AF9
2.04 W/m・K
300 cycles
1.46
CF1AF9
2.15 W/m・K
500 cycles
1.75
AF
2.06 W/m・K
1000 cycles
2.04
CF5AF5
2.71 W/m・K
2000 cycles
2.59
CF7AF3
2.82 W/m・K
3000 cycles
3.02
CF9AF1
2.81 W/m・K
* CF:Cohesion Failure, AF:Adhesive Failure
The numbers indicate their proportion to the adhesion area.
Adherends: Aluminum (alumite)
Test method : JIS K6833
Property
Thermal Conductive Elastic Adhesive
SX1008
SX1010
RH96L
Application / Properties / Features
RoHS compliant
UL94 V-0 Equivalent
Low viscosity
High viscosity
Heat resistance
Type
One-Component Type Elastic Adhesive
Base
Special acrylic-modified polymer
Appearance
White paste
White paste
Gray paste
Viscosity
Pa・s/23°C
120
650
250
SVI
2.0
4.2
4.5
Density
g/cm

3

1.98
2.00
2.15
Skin over time
23°C
3min
3min
7min
Cured properties
Hardness
Shore A
84
85
65
Glass transfer point
°C
-62
-62
-44
Breaking strength
MPa
2.5
1.8
1.1
Elongation at break
%
30
20
45
Thermal conductivity
W/m・K
1.7
2.1
2.14
Linear expansion coefficient
ppm/K
77
55
Electric Characteristics
Volume resistivity
Ω・cm
6.6 x 10

12

1.3 x 10

13

4.1 x 10

11

Dielectric constant
1MHz
0.64
3.1
7.7
Dielectric loss tangent
1MHz
0.01
0.12
0.46
Insulation breakdown voltage
kV/mm
38
22
Capacity
135ml
333ml
*Made to order
333ml
*Made to order
333ml
Viscosity: BS-type rotational viscometer (Rotor No. 7, 10 rpm)
SVI: Viscosity ratio between 10 rpm and 1 rpm
Density: Based on the specific gravity cup method in JIS K6833
Thermal conductivity: Compliant with JIS A1412
Volume resistivity: Compliant with JIS K6911 (measurement voltage: 500 V)
Dielectric constant: Compliant with JIS K6911 5.14
Dielectric loss tangent: Compliant with JIS K6911 5.14
Insulation breakdown strength: Increase the voltage until insulation breakdown occurs, and measure the voltage limit