CELLOTAPE™ No.405 (Industrial use)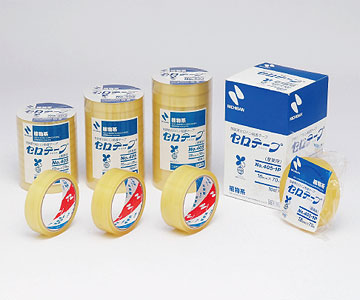 Our products
Tapes for simple packaging made from cellophane materials.
Key features
CELLOTAPE

™

is a long-established brand, perfect for a wide range of applications, both domestic and industrial.
CELLOTAPE

™

is flexible, practical and user-friendly, suitable for simple packaging in general.
You can tear the tape with your fingers, but using a tape dispenser makes the job easier.
Applications
Sealing envelopes
Craft projects
Packaging
Affixing temporary notes, etc.
Sticking up posters
Product details
Product number: 405
| Base material | Pressure sensitive adhesive | Thickness (mm) | Peel adhesion (N/10mm) | Tensile Strength (N/10mm) | Elongation (%) |
| --- | --- | --- | --- | --- | --- |
| Cellophane | Rubber adhesive | 0.050 | 3.93 | 41.6 | 23 |
Quantity per carton
Tapes in sizes appropriate for light packaging
Product number
Width
Length
Individual packaging
Carton box
405
12 mm
35 m
10
300
50 m
10
300
70 m
10
200
15 mm
35 m
10
200
50 m
10
200
70 m
10
200
18 mm
35 m
10
200
50 m
10
200
70 m
10
150
24 mm
35 m
5
150
50 m
5
150
70 m
5
100
Wide tapes for general packaging
Product number
Width
Length
Individual packaging
Carton box
405
30 mm
50 m
5
100
36 mm
5
100
40 mm
3
90
50 mm
3
60
Colour
Transparent