Polyester resin base flame retardant adhesives
For fixing electronic devices, with outstanding electrical properties
Product name

SC608Z2 Series

Features

An excellent electrical insulator.
Highly viscous and thixotropic, the product can be easily applied to a vertical surface without threading that may lead to an untidy appearance.
SC608LVZ2 is identical to SC608Z2 except for a lower viscosity.
Specifications
Product name
SC608Z2
SC608LVZ2
Main component
Polyester resin base
Polyester resin base
Solvent
Toluene, MEK
Toluene, MEK
Color
White
White
Viscosity (Pa・s)
50 to 125
7 to 10
Solid content (wt%)
57 to 64
50 to 54
Specific gravity
About 1.3
About 1.2
Diluent
Toluene, MEK
Toluene, MEK
Container
180ml Tube/18kg UN can
180ml Tube/1kg or 18kg UN can
Warranty period from manufacturing date
12 months
180ml Tube : 9 months
1kg or 18kg UN can : 12 months
UL certificated. File No.E63260 94 V-0 (t = 2.0 to 2.2mm), File No.E15485 UL746C
* Temporary standard
Application Example
Insulation and bonding in electronic component assembly lines
・Fixing diskrete parts onto a PCB
・Fixing lead wires
・Sealing coils
Utilization of insulation performance
・Insulation for prevention of electric shock
・Insulating connectors

* For bonding of difficult materials (such as polyethylene, polypropylene, polycarbonate, or soft PVC), please contact us beforehand.
* For bonding of materials soluble in toluene, MEK (such as polycarbonate, Noryl, ABS or acrylics), please contact us beforehand.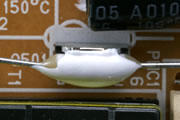 Technical Data
1. Bonding strength on various type of substrate (Shear strength)
Shear strength test
Test Piece condition
Sample size:25mm x 150mm
Bonding area:10mm x 25mm
Adhesive thickness:150µm (wet)

[Apply an adhesive to each substrate and dry at 30°C oven for 5 min.
It pastes together that overlap 1cm between two substrates.
After pressure bonding at 0.5MPa at the room temperature for 3 min, dry at 100°C oven for 2 hours.]
Results
(N/cm2)
Shear strength
Substrate
Product name
SC608Z2
Polystyrene/Polystyrene
103.3
ABS/ABS
131.4
PMMA/PMMA
66.2
Soft vinyl chloride/Soft vinyl chloride
58.5
Hard vinyl chloride/Hard vinyl chloride
111.3
Polyester/Polyester
105.8
Polycarbonate/Polycarbonate
150.0
Phenol/Phenol
118.7
Glass-epoxy/Glass-epoxy
269.5
Zinc/Zinc
510.0
Copper/Copper
525.6
Iron/Iron
412.4
Aluminum/Aluminum
478.6
Tin/Tin
530.7
2.Electrical property (Dielectric breakdown strength)
Shear strength test
Test Piece Condition
Specimen size:wet0.5mm sheet
Measuring condition:23°C±5°C 60%±20%RH

[Drying for 2 hours at 100°C after being left at RT for 72 hours]

Measurement Instrument:KIKUSUI ELECTRONICS CORPORATION 875 AZ LERA CURRENT 1

AC Voltage applied: Increased in 0.5-kV increments in 30 seconds; the highest voltage that did not induce dielectric breakdown was recorded.
DC Voltage applied: Started at 3 kV; increased in 0.5-kV increments in 30 seconds.
Results
Breakdown
voltage
Load condition
Voltage applied
Product Name
SC608Z2
Initial(kV)
After aging(kV)
Aging condition
100℃
AC
9.5
9.5
500h (100°C, 60°C 90%)
*Cycling test
(-30°C x 3h/100°C x 3h) x 10
60°C 90%
9.5
9.5
Cycling test
9.5
9.5
100℃
DC
10.0 or more
10.0 or more
60°C 90%
10.0 or more
10.0 or more
Cycling test
10.0 or more
10.0 or more
3. Electrical property (Volume resistance)
Test Piece Condition
Specimen size:0.5mm sheet
Measuring condition:23°C±5°C 60%±20%RH
Measuring instrument:Yokogawa HP Co., Ltd. Models 16008A High Resistivity Cell/4329A High Resistance Meter

[Drying for 2 hours at 100°C after being left at RT for 72 hours]
Results
(Ω・cm)
Volume resistance
Load condition
Product Name
SC608Z2
Initial
After aging
Aging condition
100℃
1.6 x 10

15

2.2 x 10

15

5500h(100°C,60°C 90%)
*Cycling test
(-30°C x 3h/100°C x 3h)x10
60°C 90%
1.6 x 10

15

1.3 x 10

15

Cycling test
1.6 x 10

15

4.8 x 10

15
4.Electrical property (Insulation resistance voltage)
Surface resistance test
Test Piece Condition
Specimen size:300µm (wet)
Measuring condition:23°C±5°C 60%±20%RH
Measuring instrument:Yokogawa HP Co., Ltd. Model 4329A High Resistance Meter

[Measured after coating the comb electrode (Conforms to JIS Z 3197) and drying.]
Results
Insulation resistance voltage
Load condition
Product name
SC608Z2
Initial(Ω)
After aging(Ω)
Aging condition
100°C
2.7 x 10

15

1.1 x 10

15

500h(100°C, 60°C 90%)
*Cycling test
(-30°C x 3h/100°C x 3h)x10
60°C 90%
2.7 x 10

15

0.4 x 10

14

Cycling test
2.7 x 10

15

4.8 x 10

15
5.Corrosiveness
Test Piece condition
Substrate:Polycarbonate plate which furnished with AG plating
Specimen size:0.2mm (wet)

[After 200 hours at 100°C aging, (it) measument]
Results
No corrosiveness